Christmas gifts are finally complete – even my last straggler – so it's full steam ahead on other works!
Knitting
After my "first" knitting project; which did become a Christmas present for my youngest niece, I decided I needed to do something simple to start training my hands what knitting feels like.  I picked up Chicks with Sticks Guide to Knitting as my intro book, and I've been working through the Dirty-Girl Washcloths.
I started the first of the 3, an all garter stitch washcloth, right after Thanksgiving.  For reasons I no longer recall, I opted to do that one in a pink worsted-weight acrylic I had on hand rather than wait until I could get back to my stash and get started with some cotton yarn.  I'm not particularly thrilled with the end result (too large, uneven, and not the greatest yarn choice for a washcloth) but it did really help me get that knit stitch ingrained!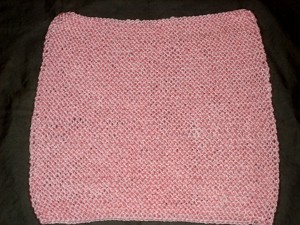 I've started the second washcloth, in stockinette with a garter stitch edging.  This one is being worked in "Bernat Handicrafter Cotton Twists."  According to the pattern, I should be done by now as I've reached the right number of rows.  However, I decided I wanted it a little bit closer to square, so I'm going a few more rows on it.  Not too much longer before I start on the final one!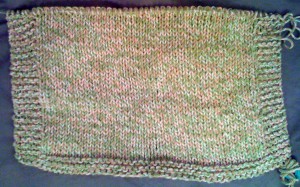 Also, knitalongs with the knitting group coming soon…
Crochet
I thought about returning to my unfinished Go For Baroque sweater, but I'm not quite ready to pick that up yet.  Instead I'm ramping up the hook roll from Lisa Nakrent's Rainbow Rolls pattern.
So far I've found a few oddities in the pattern, mostly in terms of colors.  The pattern calls for 9 colors, labeled A, B, C, D, E, G, H, J, and K.  Notice that there is no F or I.  However, the pattern instructions refer to colors I and F.  I think that "I" is supposed to be "J".  Based on the pictures, I think "F" is supposed to be "D".  The final confusing bit is that the instructions talk about using color "A" for part of the back of the hook roll, which sounds like an error.  The rest of the hook roll back is done in color K, and the pictures don't appear to have a second color where the instructions say to switch.  I've submitted a question to Interweave Crochet, the pattern publisher, so hopefully I'll get an official answer.  Otherwise I'll just muddle along. 🙂
Currently I'm working on a gauge swatch.  The pattern calls for Halcyon Yarn Casco Bay Sport, which I couldn't find at my usual yarn sources.  So, I've substituted Berroco Pure Pima.  I'm pretty excited about this yarn.  The colors are very vibrant and it feels great.  I hope it will be nice to work with.